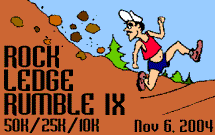 Yesterday I raced in my first 50k, the
Rockledge Rumble
. The race is run on the North Shore Trail at Lake Grapevine. It is a wonderful trail but very rugged--lots and lots and lots of hills, loose rock, roots, boulders.
The race was put on by the
North Texas Trail Runners
and it was very well organized. There is a 50k, a 25k and a 10k. I was originally registered for the 25k but in a moment of foolish optimism I changed to the 50k the morning of the race.
We started at 7:30 and as we left the start area I overheard a spectator say to a friend, "There go the crazy people." I thought that was a good start to the race.
I decided not to use my Garmin Forerunner during the race because the last time I used it on this trail I lost signal frequently. Since the mile markers on the trail are not reliable and are often missing, this meant I really had very little way to pace myself. I made an attempt to gauge my pace from the locations of the aid stations, but it was too hard to do the math when I was so exhausted. So basically I just walked the best I could and didn't worry too much about pace or time; I knew I could finish within the 8:30 time limit.
Yesterday was not the best day for an ultra. The sun was out and bright all day and the temperature got up to about 80 degrees. Luckily I had lots of liquid with me and my
Succeed
caps. The aid stations were well stocked with water, HEED energy drink (I don't recommend it but it didn't make me sick) and Coca Cola. They also had the usual fare--animal crackers, potato chips, M&Ms, salty snack mix, etc. I also had a
Clif Bar
with me and
Hammer Gel
.
The course for the 50k was out and back on the full trail (about 19 miles), then through the starting area and back out for a 12 mile loop on the trail. It was very hard to walk through the aid station at the start/finish area and not just stop! Also, the turnaround was at the top of a flight of stairs (stairs! After 19 miles of jumping and scrambling and falling and skipping I had to climb a flight of stairs! How cruel!) so I was even more tired once I got there and didn't relish the idea of going back down.
I spent most of my time on the course alone, which is how I prefer it. A couple of times I walked with a few runners and we struck up brief conversations. I was right behind one woman whose significant other met her every chance he could (we crossed a few roads on the course) and cheered her on--it was awesome and very touching!
I was really flagging during the last ten miles and had to slow down. One bad thing about an out-and-back course is that every hill you go down on the way out you will have to climb on the way back, so you know exactly what you are in for. As I started the second loop I knew I would have to do it all again, and I wasn't sure I could. It was about that time that I started eating some Hammer Gel. Lately in my training I've been avoiding Gel. I don't know why, except that I wasn't sure it was making a difference in my performance. But now I'm convinced that it can make a huge difference. As I mentioned above, I was slowing down and very tired on the last loop. I started eating Gel, and with about 4 miles left I got a huge surge of energy--and I mean huge!
The first (and last) aid station is 3.1 miles/5k from the start so I could use it for pacing. My first 5k split was 37:58. My last two 5k splits were 39:26 and 39:13. This is certainly not lightning fast, but I think it's pretty strong for the last 10k of a 50k race. During that last 10k I passed three runners who had past me earlier in the race. I felt like I did at the beginning of the race--I was jumping and leaping up the hills and running down them. Even the pain in my back and ankles had subsided. I can't be 100 percent certain that the Gel made the difference but I didn't make any changes to my eating or drinking habits other than eating Gel toward the end.
I'm going to try eating more gel in my next few training sessions and see if I can tell a difference. Whatever powered those last 10k, I hope I can find it and harness it again in the next race.
The end was somewhat anticlimatic. I climbed the stairs again, but right as I was finishing there was another runner (a man in his 50s or 60s) who was having some medical trouble so I just crossed the line and got out of the way. Fortunately he just needed an inhaler and he was fine. Because of the commotion I didn't get my finisher's awards so I waited until things calmed down and went back up to the finish line. The main award was a baseball cap with the race logo and "50k Finisher" emblazoned on it. It has quickly become my favorite hat! I wanted to sleep in it but my wife wouldn't let me.
Because of the finish line confusion I don't know if anyone recorded my finishing time. But I don't care what the official results say--I know how I did, and that's all that matters to me.
If you are looking for a fun, challenging, well organized 50k, I would definitely try this one. I'm planning to do it again next year on the 10th anniversary--the race director said it will be a special race.
Distance: 50 kilometers
Time: 7:21:48
Pace: 14:13