I took the week off to recover from the all night walk last Friday and to catch up on sleep and personal stuff. This morning I went back to
White Rock Lake
to train on the asphalt and paved running surface around the lake (at 4:45 am it was already 85 degrees!). I'm officially back in training for marathons and half marathons and will return to ultras and trail walking at some future date.
Today I decided to push myself to see just how much speed I lost during my long distance training. I've done no speed work in months (maybe as long as a year) so I wanted to do an assessment and start building my training plan.
My first miles were slow--I guess I needed more warm up and needed to get my body adjusted for fast walking again. As the morning progressed I picked up the pace and felt pretty good. Here are my splits: 11:51, 11:37, 11:14, 10:27, 11:02, 10:56, 10:50, 10:35, 10:15, 10:27. For reference my marathon PR pace is 11:20; my half marathon PR pace is 10:13. So I was pretty pleased with these splits. I wish I had been faster in the beginning but given the fact that all of my recent walking has been at a much slower pace I felt this was pretty good.
I got new racewalking shoes! They are pretty cool looking: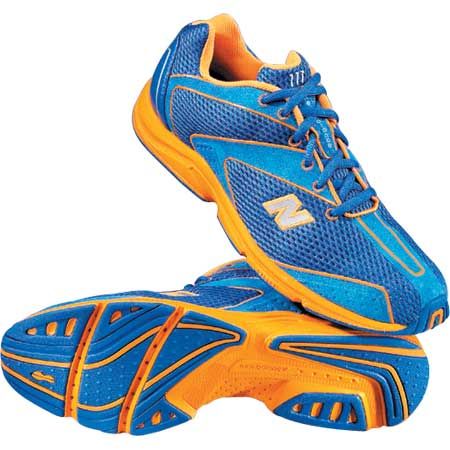 Unfortunately I got a blister on my left heel, something that never happens to me. It felt like the inside of the left shoe had a hard ridge that wasn't present in the right shoe so maybe the shoes are defective. I'm going to contact the company that sold them to me and try to replace them. Other than that I love the shoes--very flexible, very lightweight. They have a tapered or sloped heel that helps with the natural foot roll that occurs in racewalking. They seem to be well-designed.
Tomorrow is the Team in Training Kick-Off for the winter season. I already have 10 people on my mentor team and may get more tomorrow. We're going to have a big team, which is really cool. I can't wait to meet everyone and start the training.
Hope everyone is enjoying the weekend and getting in some nice training or racing.
Distance: 10.4 miles
Time: 1:54:06
Pace: 10:58