Picked up some new shoes today, New Balance 833s: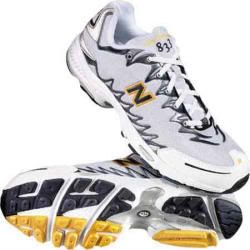 They are very lightweight and are used by a lot of racewalkers even though they are technically running shoes. They are also pretty cool looking, which is nice--silvery and space age, something David Bowie might have worn when he was in his "Major Tom" phase.
I really needed something new since my current shoes have 300+ and 500+ miles. These provide a little more support than then NB 110s (made specifically for racewalking) and should make my long walks more comfortable.