Lots of bloggers will be racing this weekend. Make sure you stop by and give them some words of encouragement:

Dianna
(the running chick with the orange hat) will be running her first marathon, the
Hartford Marathon

Mike Paus
will be running the
Chicago Marathon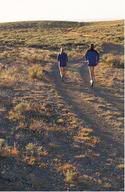 Hilary
will be running the
Steamtown Marathon

Annalisa
will be running the
Tufts 10k for Women

And of course
Mark
, aka the Blogfather, will be running the
Royal Victoria Marathon
Special thanks to
Mark
for the
Complete Running Calendar
. If you haven't already done so, go here and post your upcoming races. You'll be surprised at the incredible support you will get from *almost* complete strangers!