I was in San Jose, CA for three days this week for work. While there I wanted to find a good place to train. Luckily the very helpful and informative
Ultra-G
told me I should try the trails at
Mission Peak
, only about 15 minutes from my hotel. So I headed out there yesterday and today at about 5:00 AM.
Sometimes I'm a little dense, so even though it was called Mission
PEAK
, I really didn't know what I was getting myself into. This trail is up, up, up to the peak. There is more than 2,000 feet of elevation gain in less than three miles, and there are almost no flat portions until the trail plateaus toward the top. It was really hard going up and my times were anywhere from 15 to 18 minutes per mile. Several times I wasn't sure if I would make it (tired, so tired....), and I was especially concerned about getting down in time to get back to my hotel and shower before work.
At least I had company during my training--cows. The peak is in a wilderness preserve and they have free-roaming cows and goats, so I saw lots of cows. To entertain myself I greeted them like I would greet a passing runner or hiker. I don't think the cows cared, but I amused myself.
The last half mile was the hardest--the trail is very rocky and, from a running/walking perspective, almost not a trail at all; it's more like a jumble of big rocks. Also, the trail seemed to steepen significantly. Here's a
picture
of the final approach to the peak.
But once I got to the top it was all worth it. The view was just incredible, a 360 degree view of cities, wilderness, fog and clouds. Here's a daytime
view
from the top looking toward the urban areas to the west. And here's a
view
looking toward the mostly wilderness and rural areas to the east. Imagine these views at about 5:45 AM with the sun about to rise over the mountains to the east and not another soul in site. It was so beautiful and peaceful.
After enjoying a few minutes at the top, it was time to go down. This is where things got really interesting. The trail was way too steep to walk down (at least, to racewalk). I really had no choice but to run! And run I did, all the way down (three miles). My times were between 6:15 and 9:00 per mile, all thanks to gravity. A few times I really felt out of control and had to slow myself down before I took a tumble. But I felt great, and when I finally got back to my car my legs felt this great burn, like they had been worked well and appreciated the challenge.
Below is the altitude chart created by my Garmin Forerunner. It is not to scale so the steepness is exaggerated, but you can see that I'm not lying; it's straight up, then straight down.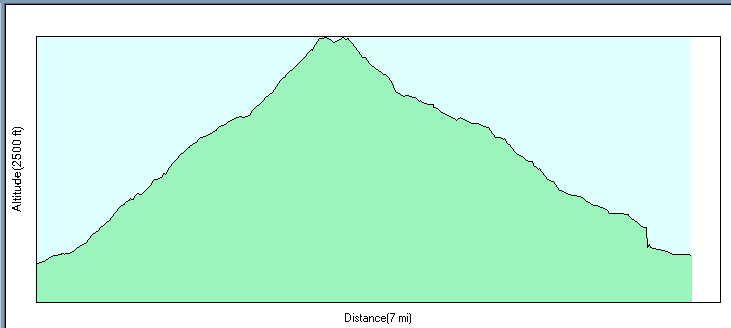 I was really excited when I read in the Mission Peak brochure that hikers should plan five hours for the round trip ascent and descent; it took me 1:28:15, a pace of 13:41.
So if you are in the Bay Area and looking for a hill to train on, I highly recommend this one. It's very beautiful and very challenging.
Here
is a photo essay from Bay Area Hiker with a lot of great pictures of the trail and the peak.